Welcome to the Village of Corfu's website! This site provides general information about Village government, the services we provide, meeting schedules, history, and all Village departments. It includes answers to commonly asked questions about the Planning Board, Zoning Board, Sewer Treatment Plant and other issues. The site also contains current news and information, a directory of Village businesses, a map, and related links regarding other governments and community assets.
This website is part of the Village Board's ongoing communication effort with all of our residents. We hope you find the site interesting and useful and we value your input. If you have comments or questions, feel free to contact the Village Office at 585.599.3327 or e-mail your comments to us.
Agendas for upcoming meetings are available at the Village Office by Thursday 4:00 pm prior to each meeting. 
For any court or traffic ticket related matters, please call 585.599.3380
---
Food by Center Street BBQ, Dubby's Wood Fired Pizza and Dilcher's snacks and more. Tarot card readings, paintings, handmade items by several local artists. And of course, trick or treating. Autumn in the Village official map. Center Street food truck will also be on site. Come join us for a fun and safe Halloween event.
Using a fire extinguisher can be intimidating, especially if you do not know the proper way to use it. Fortunately, there is a very useful anagram to help you remember the four easy steps. Just remember the phrase P.A.S.S.
Pull: Pull the pin. There is a small pin that prevents the fire extinguisher from accidentally being used, all you have to do is pull it out and continue on to the next step. Pull the pin. This will also break any tamper seal.
Aim: Aim the nozzle (or the hose) of the fire extinguisher low towards the base of the fire.
Squeeze: Squeeze the lever you just pulled the pin out of. Remember to squeeze it slowly and evenly, so it is as effective as possible.
Swipe: Swipe from side to side to cover all areas the fire may have spread to. Sweep from side to side at the base of the fire until it appears to be out. Watch the area. If the fire re-ignites, repeat the P.A.S.S. process.
To properly execute the steps to use the fire extinguisher, you must take some safety precautions. Assess the fire, if it is too big or uncontrollable don't risk your safety by trying to put it out, evacuate the house and call 9-1-1 immediately. If the fire is small enough and can easily be put out and contained, continue to use the P.A.S.S. technique to put it out. Make sure to hold the fire extinguisher with the nozzle pointing AWAY from you, and keep your back towards a clear exit so you can easily exit if the fire becomes too dangerous.
Fire extinguishers should be stored on every level of the home and in areas like the kitchen and garage. Store them in accessible places or mount them on the wall for easy access in the event of any emergency.
The Better Corfu Committee has created a free online bulletin board for the community where you can post or read:
Announcements (related to the village)
Garage Sale Notices
Local Advertising
Village History
Village Events
…as well as many other categories.
This bulletin board is a great way to interact with your neighbors and to exchange information.
The bulletin board can be accessed here (http://corfuny.com/bulletin-board) and requires you to register a free account.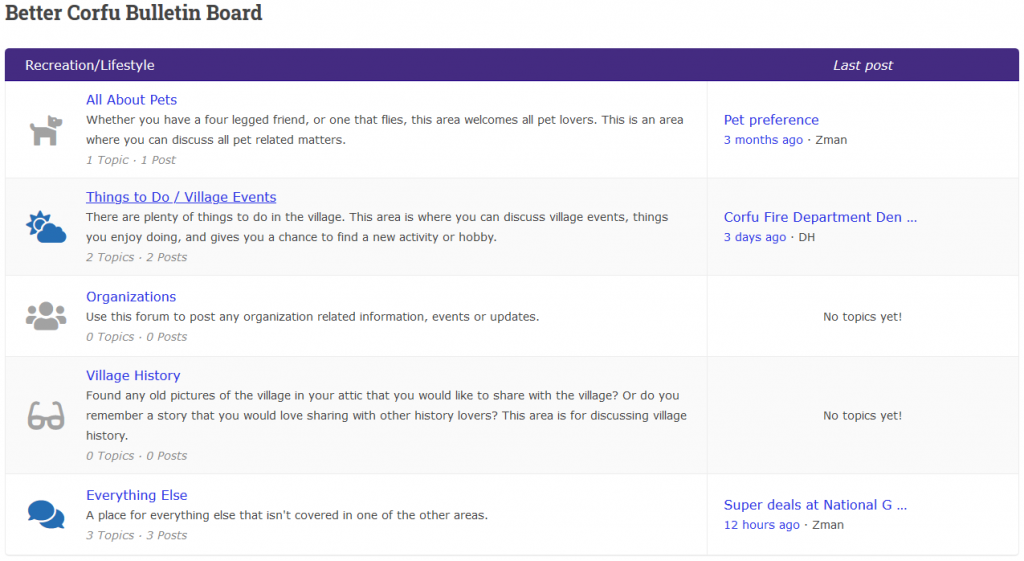 ---
The Better Corfu Committee is a committee of local residents dedicated to making Corfu a better place to live, play, and work.
Help us bring the village alive with the spirit of the season by creating a unique scarecrow to display during our inaugural Autumn in the Village celebration!
Design a custom scarecrow to display in front of your home from October 24 – November 1. They can be attached to a mailbox or in front of the house (please do not attach them to road signs or light poles). Scarecrows must be made in good taste and weather-resistant.
Participants must maintain the scarecrow while on display.
See the flyer below for more information:
The Crossroads House in Batavia will be having an impromptu garage sale at 11 Liberty Street. Although much smaller than their annual garage sale due to restrictions on public gatherings, "the show must go on!" Volunteers have been busy pricing a wide variety of treasures including glassware, collectibles, household items, and a few pieces of furniture. Garage access will be limited to a few people at a time, social distancing measures will be in place, and masks will be required.
This sale is to not only help fill the funding gap left by cancelled fundraisers but also to move out merchandise that would have sold at their summer sale.
The sale will be held on Friday, October 9th from 9-2, and Saturday, October 10th from 9-12. (No early birds, please).
Below is a flyer with the details.
Better Corfu Bulletin Board